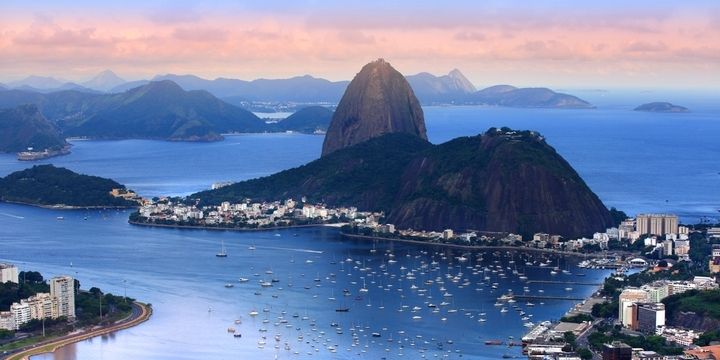 Brazil is an exotic country. Its culture, flora and fauna, food and music cannot leave you indifferent. One of its cities, Rio de Janeiro, is visited by thousands of tourists coming from various countries every month.
The area offers so much that you'll need a few weeks to see at least a small part of what it has. Whether you are interested in architecture or nature, there guests can see and experience it all.
1. Sugar Loaf
Sounds tasty? As a matter of fact, that's the name of a landmark located in Rio de Janeiro. You can see it above the harbor – it peaks almost 400 meters and sits on a site that projects out into the bay. There's a low strip of land connecting the landmark with the city. Feel free to take a cable car from Pra?a General Tib?rcio and reach the top of a lower peak called the Morro da Urca. Afterwards you can transfer and move on to the summit of the Sugar Loaf. Observe the mountainous coast, its bay and its islands. Finally, there are three forts on Cara de C?o, close to a wonderful beach. Fort S?o Jo?o was built in the 16th century and welcomes the public.
2. Tijuca National Park
Largo do Botic?rio is an incredibly picturesque square situated in Rio, close to the Corcovado railway. Th area is surrounded by houses of colonial style. The pavilion reminds of a pagoda. The structure is almost 400 meters above the shore and lets you enjoy splendid views the Botanic Garden, the Municipal Park and the south coast. Want some more scenery? Then visit Mirante Dona Marta, an excellent viewpoint by Botafogo Bay. Besides the above-mentioned miracles the area has forest springs with waterfalls. Museum fans are welcome to the Museu do A?ude where they will see paintings, azulejos (17th-19th century Portuguese tiles) and generous porcelain collections provided by the West India Company.